000
,
000 fine
,
10k
,
access control
,
cctv
,
construction
,
construction site
,
fine
,
fire
,
fire alarms
,
fire extinguishers
,
fire safety
,
fire safety managers
,
fire safety managers ltd
,
fsmltd
,
fsmonline
,
health
,
health and safety
,
intruder alarms
,
J G Hale construction
,
J G Hale Construction Ltd
,
JG Hale
,
no fire safety
,
no safety
,
panic alarms
,
prosecution
,
safety
,
safety breaches
,
south wales
,
uk
,
wales
,
£100
South Wales based J G Hale Construction Ltd has been fined £100,000 for running an unsafe timber-frame construction site.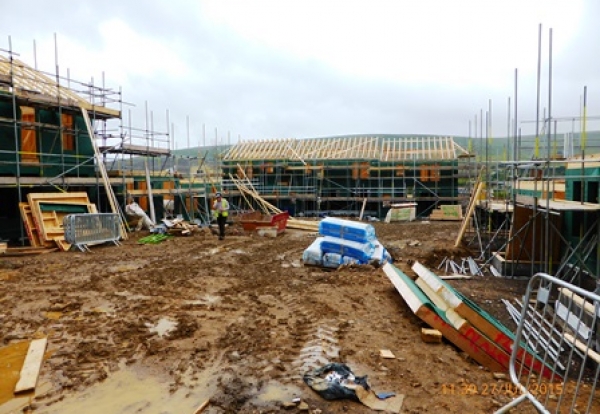 An HSE picture of the construction site in use
Cwmbran Magistrates' Court heard that HSE launched an investigation on 27 July after making an unannounced visit to inspect Hale's construction site in the centre of Blaenavon.
Fifty-four timber-frame houses were being built, which carry a serious fire risk to all the different types of workers if not planned or managed properly.
HSE found that measures to prevent a fire starting and getting out of control had not been properly taken.
All the houses were being built at broadly the same stage with little fire protection, a lack of site management control, insufficient means to detect a fire and raise the alarm, poor control of ignition sources and a general lack of emergency planning.
Workers were also at risk of being struck or crushed by construction vehicles on site.
Improvement Notices were served regarding fire and vehicle safety issues and these were complied with after two further inspection visits.
J G Hale Construction Limited, of Neath, South Wales, who also manufacture timber frames for the building development industry, pleaded guilty to saftey breaches and was fined a total of £100,000.
After the hearing, HSE inspector Liam Osborne said: "Hale Construction had been given plenty of warnings about fire-safety and traffic risks in the recent past, including from HSE.
"Timber-frame houses are perfectly safe once they're finished and protected, but when under construction they can be very dangerous.
"Stringent fire-safety standards need to be in place well before the build starts, and then maintained and monitored".
What we can get from this article is that safety rules and regulations are in place for a reason. We should always try our best to stay safe and protected from potential hazards.
For all your safety & security needs, give us a call and see how we can help you
0121 439 1220
Original Source:
Social Share