aware
,
awareness
,
brexit
,
British Inter-University China Centre
,
bst
,
build
,
centre
,
clarendon
,
crew
,
england
,
europe
,
fire
,
fire brigade
,
fire crew
,
firefighters
,
health
,
health and safety
,
hebrew
,
institute
,
jewish
,
manager
,
oxford
,
Oxford Centre
,
oxford university
,
quick
,
roof
,
safe
,
safety
,
said
,
service
,
start
,
street
,
studies
,
study
,
team
,
teamwork
,
toaster
,
uk
,
university
,
walton
,
work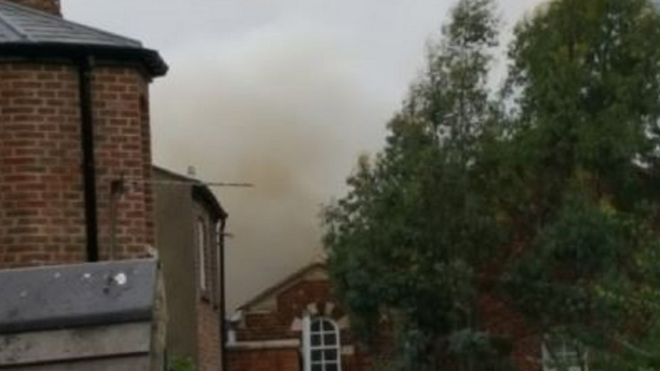 A toaster fire casused the smoke that was seen billowing from the Clarendon Institute in Oxford city centre
A large fire at a university building in Oxford's city centre is believed to have started in a toaster.
About 20 firefighters tackled the blaze for several hours at the Clarendon Institute on Walton Street, which had spread from a second floor office into the roof space above. To think a toaster caused a major fire is devastating.
One woman was treated for a cut to her head by paramedics at the scene but is not said to be seriously hurt.
Five crews and a hydraulic platform were sent to the area at 13:45 BST.
Smoke billowed across neighbouring streets and Walton Street had to be completely closed. The fire was put out just after 16:00 BST.
Its cause is being investigated by a specialist team, but a fire service spokesman said early indications suggested it started in a toaster.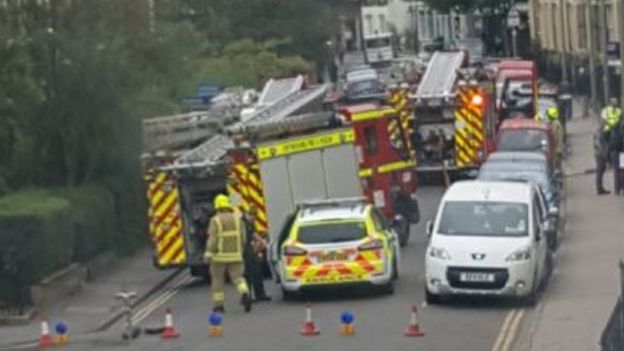 Firefighters and paramedics were sent to the scene on Walton Street
Watch manager Andy Hayes, from Rewley Road fire station, said: "The crews worked really quickly to gain access to the roof and stop it spreading.
"The staff on site also acted very quickly to evacuate the building and make sure everyone was safe."
The Clarendon Institute is home to the British Inter-University China Centre and the Oxford Centre for Hebrew and Jewish Studies.
A university spokesperson said: "We understand that all occupants of the Clarendon Press Institute Building on Walton Street are safe and well.
"We would like to offer our thanks to Oxfordshire Fire and Rescue Service and the South Central Ambulance Service for their speedy and professional response this afternoon."
Clearly the lack of fire safety awareness is an issue. We are on a mission to raise awareness and provide fire safety training to people, educate children in schools and help fire victims rebuild their lives. The team at Fire Safety Managers works hard every day and aims to save lives before they need saving.
Original Source:
Social Share